19 Dec

Healing From Chronic Illness with Lifestyle Medicine at Life Change Health Institute

Lifestyle Medicine is a comprehensive mind body medicine that addresses the underlying causes of illness & disease, using a systems-oriented approach and engaging both client and clinician in a therapeutic partnership exploring diet, lifestyle, trauma history, relationships, somatic memory and armouring and stress. This is an incredibly effective holistic approach to recovery, incoporating the very latest in gut research and psychobiotics, dynamic psychosocialsomatic psychotherapy, conscious sexuality and embodied tantra and plant based nutritional science. Lifestyle Medicine is an evolution in the practice of medicine that better addresses the healthcare needs of the 21st century. By shifting the traditional disease-centered focus of medical practice to a more client-centered approach, lifestyle medicine addresses the whole person, not just an isolated set of symptoms.



Lifestyle Medicine at Life Change Health Institute
Reclaim your health on our new 12 week life change program. This 12 week life chnage program is a comprehensive professional program for weight loss and/or reversing chronic illness. The 12 week program will include two psychotherapy sessions per week for 12 weeks, a comprehensive diet and lifestyle plan for the 12 weeks, an online repair your gut program and a number of other online modules including simple and advanced recipes for healthhy meals, juices and smoothies and a detailed nutritional science guide. Our 5 Step Holistic Approach to Optimum Health is:
1) Eliminating toxic and inflammatory foods:
2) Rebuilding the Body & Rebuild the Gut:
3) Identifying environmental toxins:
4) Healing autoimmune-related infections:
5) Emotional release process and lifestyle changes

Follow this program, Whether you're battling diabetes, cancer, multiple sclerosis, thyroid disease, autoimmune disease, IBS or obesity, or you simply want to put an end to nagging minor symptoms and get back to full health. Our Holistic approach, based on the latest scientific research is designed for optimum weight loss without starvation and to fight and defeat the full spectrum of autoimmune diseases, rebuild your gut flora, and reclaim your full health and well being for good. Each Program Includes Easy to Follow comprehensive 5 Step Plan, Lifestyle guidelines, Diet Guidelines, Resources, Education ,Scientific Research and the incredible must have Gut Rebuilding Program full of world unique recipes and guides from expert fermentationist, functional health therapist and psychotherapist Darren Maguire.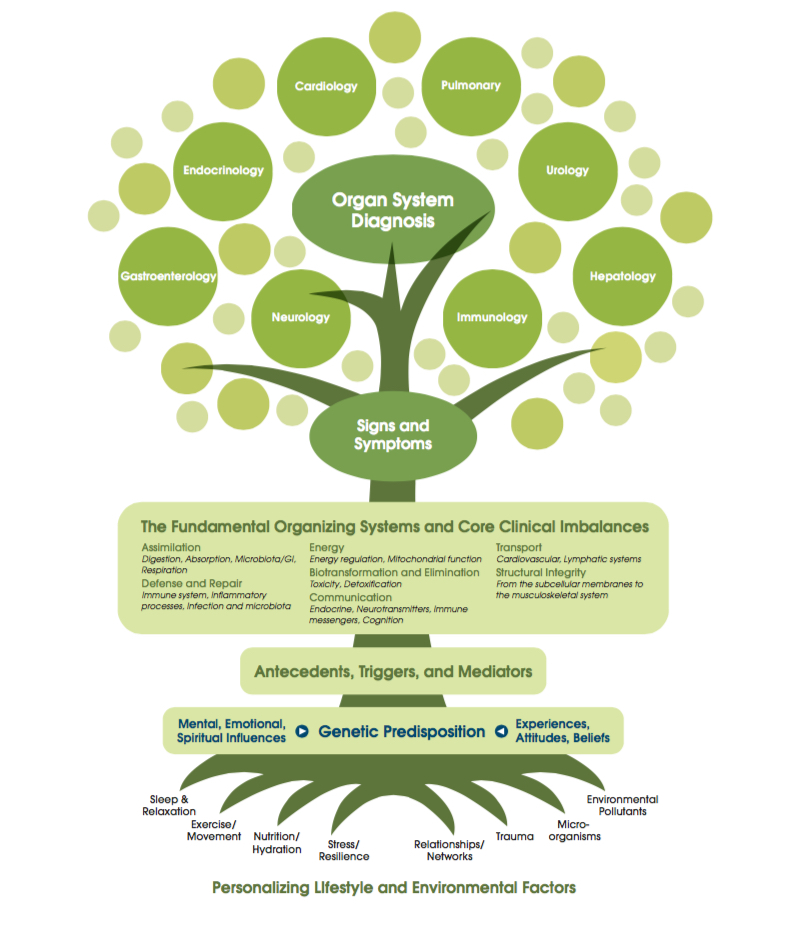 In order to keep a tree healthy and allow it to flourish, you need to support the most basic and essential elements first; the foundation: the roots and soil. Similarly, if a tree is not healthy, the first place you should look for answers is those same foundational elements. In Functional Health, the same approach applies to clients. The most important factors, and the ones we examine first when gathering information about the client, are the foundational lifestyle factors; sleep, exercise, nutrition, stress levels, relationships, and genetics. These are the roots and soil, which are in turn influenced by specific predisposing factors (antecedents), discrete events (triggers), and ongoing physiological processes (mediators), and may then result in fundamental imbalances at the trunk. These can eventually result in the signs and symptoms that are grouped into a diagnosable constellation that we call disease, represented by the branches and leaves.

Lifestyle Medicine is a personalized, systems-oriented model that empowers clients to achieve the highest expression of health by working in collaboration with a Lifestyle Medicine Coach to address the underlying causes of disease." Life Change Health Institute