15 Nov

Radical Aliveness Psychotherapy & Nutritional Counselling at Life Change Health Institute Dublin

Individual & Group Psychotherapy
Life Change Health Institute offers world unique individual & group psychotherapy. We specialize in long-term relational trauma recovery, sexual trauma recovery and early childhood trauma recovery. We offer a very gentle, safe, supportive and compassionate space for deep relational work with highly skilled, trained and experienced psychotherapists. Dynamic (PT) PsychoSocialSomatic Therapy seeks to heal early experiences of abandonment, neglect, trauma, and attachment loss, that otherwise tend to play out repetitively and cyclically throughout the lifespan in relationship struggles, illness and addictions. It is unique in that it approaches the body first (bottom-up processing) and unlike any other form of therapy also integrates the social element of looking at the clients nutrition, environment, support structures, relationships, level of intimacy and attachment style, incoporating transference focused therapy, gestalt, psychodynamic psychotherapy, attachment theory, somatic psychotherapy and interpersonal neurobiology.
Everyone sees the unseen in proportion to the clarity of his heart, and that depends upon how much he has polished it. Whoever has polished it more sees more — more unseen forms become manifest to him. Rumi
Who is Psychotherapy for?
Everybody is welcome, whether you are a psychotherapy student, an advocate of personal development and self-inquiry, a trauma survivor or currently struggling with an addiction, a relationship, as a parent or with an illness and would like to talk with someone and get professional support.

What Happens in Psychotherapy?
In an atmosphere of support, compassion, non-judgment, acceptance and awareness, using Dynamic (PT) PsychoSocialSomatic Therapy, we pierce through layers of protection. This process allows one to uncover psychological patterns, release primal feelings and suppressed energy and thus return to the essence of who we are. Dynamic (PT) PsychoSocialSomatic Therapy is a powerful therapy that makes the connection between mind and body.

What is the Approach used?
Radical Aliveness psychotherapy integrates the paradigms and practices of modern neuroscience, Western relational psychology and Eastern contemplative practice to help people shift out of old patterns of response to life events to more flexible, adaptive patterns that lead to more authentic resilience and well-being. We also integrate mindfulness practice, experiential psychotherapies and findings from neuroscience and attachment research into a strong foundation of psychodynamic inter-subjectivity. This model of therapeutic transformation is accelerated and effective.

What are the Benefits?
Participants of Radical Aliveness psychotherapy learn practical tools to help reconfigure and rewire "stuck" brain-behavior patterns, reduce stress and burnout, restore a sense of perspective, and recover a sense of balance and wholeness. Repair intimacy with self and others, and develop new interpersonal skills for relating, communicating and boundary setting.. The renewed neural flexibility in the brain helps you move from surviving to thriving, even flourishing in all aspects of living.

How does it Work?
The only way to heal our wounds is to expose them, to bring them to the light. When the longing to be free is bigger than the fear of being exposed, we open ourselves to experiences that re-program our deepest beliefs about ourselves. This deep process work helps you to look at emotional incidents from the past, that are actually still present in the here and now, in order to liberate the flow of energy held in dysfunctional psychological behavior patterns. We aim to create an atmosphere in which love and awareness surround and support you, allowing you to drop layers of protection which are no longer needed, release suppressed energy and return to your essence.


Nutritional Counselling for Optimum Health
At Life Change Health Institute we adhere to the principles of Functional Health. Functional Health is a consilient view on healing. We view each person as a holistic human being in all their wonder and complexity. As we as humans have bodies, we look at an individual through the lens of chemistry, anatomy and nutrition, as we are living beings we look through the lens of biology, relationships and neurobiology, as we have a mind we look through the lens of psychology, as we function in groups we look through the lens of sociology, group dynamics and group psychology, as we have culture we look through the lens of anthropology. We take this view of humanity and challenges to humanity such as stress, disease and illness in all of the work we do at Life Change Health Institute. We do not believe that there is any one cause or any one solution or cure to any challenge we face. We have devised a world unique 5 Step Holistic Approach to Optimum Health which can be used to reverse disease and achieve radiant health, our approach is designed to address the root causes of disease rather than simply addressing symptomology.  
Our 5 Step Holistic Approach to Optimum Health is   
1) Eliminating toxic and inflammatory foods:
2) Rebuilding the Body & Rebuild the Gut:
3) Identifying environmental toxins:
4) Healing autoimmune-related infections:
5) Trauma release process:  
Follow this program, Whether you're battling multiple sclerosis, thyroid disease, autoimmune disease, IBS or Graves' disease, or you simply want to put an end to nagging minor symptoms, Our Holistic approach, based on the latest scientific research is designed to fight and defeat the full spectrum of autoimmune diseases. If you would like to get more detail information about our 5 Step Holistic Approcah to Optimum Health you can purchase one of our Support plans specific to a Range of diseases.  
What is Functional Health 
Functional Health addresses the underlying causes of disease, using a systems-oriented approach and engaging both client and functional health therapist in a therapeutic partnership. It is an evolution in the practice of medicine that better addresses the healthcare needs of the 21st century. By shifting the traditional disease-centered focus of medical practice to a more client-centered approach, Functional Health addresses the whole person, not just an isolated set of symptoms. Functional Health therapists spend time with their clients, listening to their histories and looking at the interactions among genetic, environmental, relational and lifestyle factors that can influence long-term health and complex, chronic disease. In this way, Functional Health supports the unique expression of health and vitality for each individual. Functional Health offers a powerful new operating system and clinical model for assessment, treatment, and prevention of chronic disease to replace the outdated and ineffective acute-care models carried forward from the 20th century. Functional Health incorporates the latest in genetic science, systems biology, and understanding of how environmental and lifestyle factors influence the emergence and progression of disease. Functional Health enables health professionals to practice proactive, predictive, personalized health care and empowers clients to take an active role in their own health.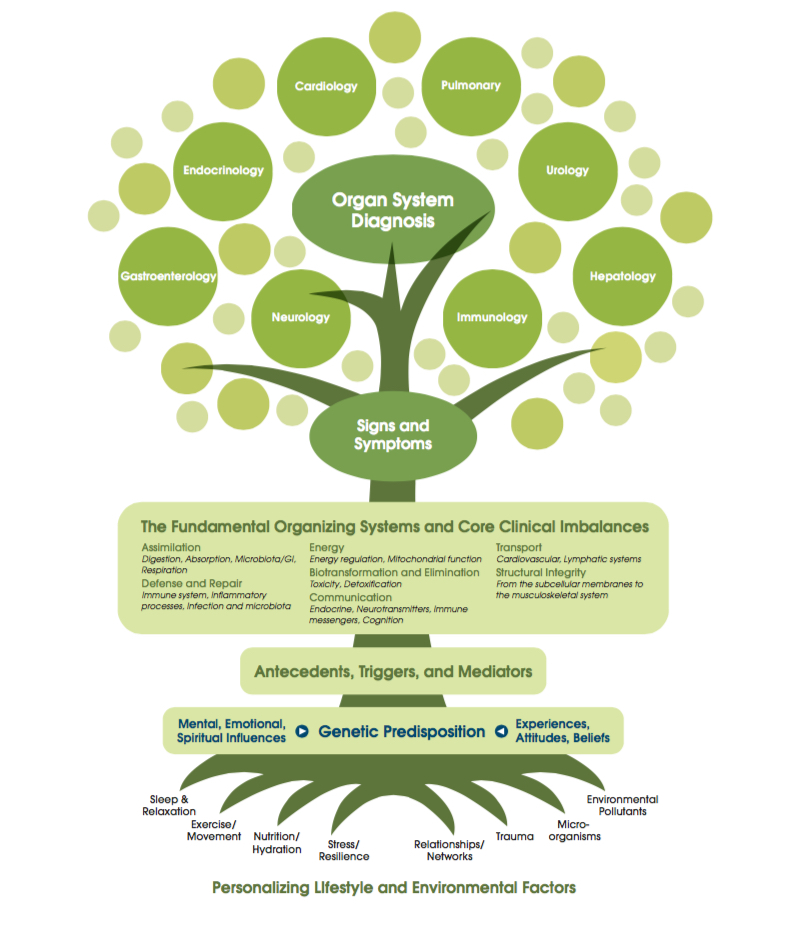 In order to keep a tree healthy and allow it to flourish, you need to support the most basic and essential elements first; the foundation: the roots and soil. Similarly, if a tree is not healthy, the first place you should look for answers is those same foundational elements. In Functional Health, the same approach applies to clients. The most important factors, and the ones we examine first when gathering information about the client, are the foundational lifestyle factors; sleep, exercise, nutrition, stress levels, relationships, and genetics. These are the roots and soil, which are in turn influenced by specific predisposing factors (antecedents), discrete events (triggers), and ongoing physiological processes (mediators), and may then result in fundamental imbalances at the trunk. These can eventually result in the signs and symptoms that are grouped into a diagnosable constellation that we call disease, represented by the branches and leaves.   "Functional Health is a personalized, systems-oriented model that empowers clients to achieve the highest expression of health by working in collaboration with a functional health therapist to address the underlying causes of disease."